Fancy an appliance that will revolutionize the way you iron? Well, then you can take a look at the Oliso TG1600 Pro Smart iron with iTouch technology.
Oliso gives Just the easiest ironing experience ever. Simply touch the handle and the iron lowers, ready to work. Iron those wrinkle away! Take your hand off and the patented scorchguards® lift the iron off the board preventing scorches, burns, and tipping. The easiest, safest, and dare we say it… most fun way to iron.
To be fair, it is still looks and feels like an iron and it will definitely not be able to do the chore for you. But at least, it can lighten your task and make it bearable.
Oliso Pro Smart Iron TG1600 Review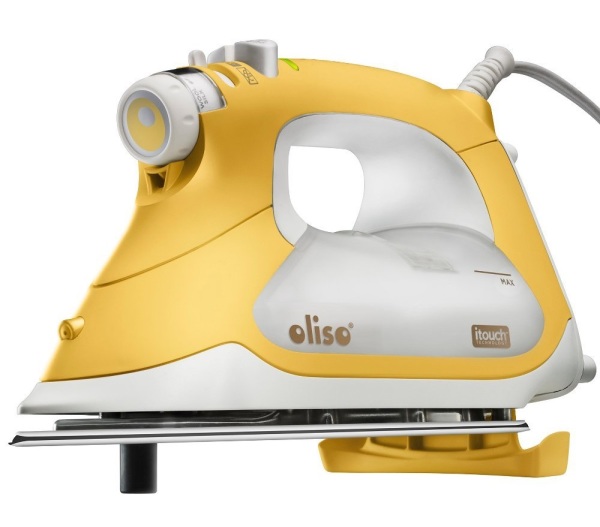 The features of this iron are as follows:
1800-watt
Stainless steel soleplate
iTouch technology
Detailer tip
Anti-drip
Self-cleaning
Burst of steam
Vertical steam
Variable steam
Water spray
Auto shut-off
Pivoting cord
Size: 11.4" (L) x 4.9" (W) x 5.9" (H)
==> Check Price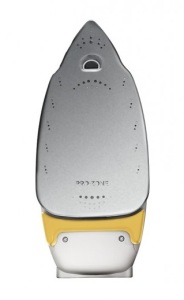 The Oliso TG1600 is a powerful steam iron at 1800-watt. It will heat up very quickly and get you started in under a minute. The soleplate is made of stainless steel with extra thickness for better heat retention and extra flat to minimize dimpled impressions on fabrics. The pointed detailer tip helps with the cuffs, pockets, corners and other tight spaces.
What is unique to Oliso irons is the iTouch technology. Basically, with this feature you don't have to sit your iron upright when re-arranging your clothes. It can be positioned horizontally at all times because there is a mechanism to raise the unit when you take your hands off the handle. It will leave a gap between the soleplate and the board to prevent burns and scorches.
The iron also has the standard anti-drip, self-cleaning, steam jet, variable steam and water spray function. Both the temperature and variable steam controls are located at the front of the iron, making them easy to read and adjust. Unlike most models, the water hole is not at the front but below the handle with side-loading access.
The Oliso TG1600 has a large water tank with 12.7-ounce capacity and extra long cord measuring 12 feet.
The video below will show you how the iron works, particularly the iTouch feature which is designed for your convenience:
Should You Buy The Oliso TG1600 Pro Smart Iron?
Pros
Safety – The iTouch technology is a smart way to minimize the risk of the iron toppling over. When you sit an iron upright on its heel, you are far more likely to knock it off the ironing board than if it is left in a horizontal position. It is also much safer to place it in this position if you have young kids around.
Long auto shut-off – The Oliso TG1600 is perfect for quilters and designers because it has a 30 minute idle time window before the unit goes into shut-off mode. Some irons like the Black & Decker D2030 will shut down in 10 minutes which can be a hassle for those who sew. If you want an iron with no auto shut off, the Rowenta DW5197 is the one to look at.
Saves strength – Lifting the iron and positioning it upright can be tiring on the wrist for those with health issues. With no necessity to lift the iron for the Oliso Pro Smart, not only you end up feeling more comfortable with the task, you will also save the hassle of having to make it sit on its heel securely.
Indicator light – Many irons do have an indicator light but it goes off once the soleplate reaches the desired temperature. Therefore, you won't know if the iron is operating or otherwise if you have left it standing for a while. But with this Oliso model, the light blinks when it is warming up and turns a solid green when it is ready for use. It turns red when left idle for 30 minutes so that you know it is in sleep mode then. To reactivate, you simply need to touch the handle rather than having to re-plug the unit.
Cons
Spits water – The complaints of leaks and spits are there for this model. Quite a few customers have mentioned that the iron leaks pretty badly. You also need to empty the tank after use to prevent it from dumping the leftover water onto your ironing board.
Does not last – Complaints that the iron breaks down after a few weeks to a few months of use are pretty common as well. In other words, the long term reliability is a worry given that this is a fairly expensive iron. It is even more expensive than the Rowenta Steamium at the time of this review.
Not hot enough – The soleplate does not seem to be hot and slick enough for some. Whether it is due to quality control issues or other problems, a top notch Rowenta iron like the DW8080 Pro Master would be a better bet in this department.
Regardless of its unique smart feature, we don't think that the Oliso TG1600 would qualify as one of the best steam irons around. It does have its good points with the more advanced technology but an iron also needs to be able to glide smoothly with ample heat and steam to take out wrinkles easily. This is the main purpose of an iron and the Oliso TG1600 is still lacking here with numerous complaints of spits and lack of heat.
Hence, we are reluctant to recommend a buy for the Oliso TG1600 smart iron. The price does not justify the risk of ending up with a leaky unit. You can try the Oliso TG1100which retails for a little less to cut down on your risk but we would still rather pay a lower price and get a Rowenta iron instead. Of course, if you have arthritis or young kids around where the iTouch technology would be a life saver, then it is a different story.